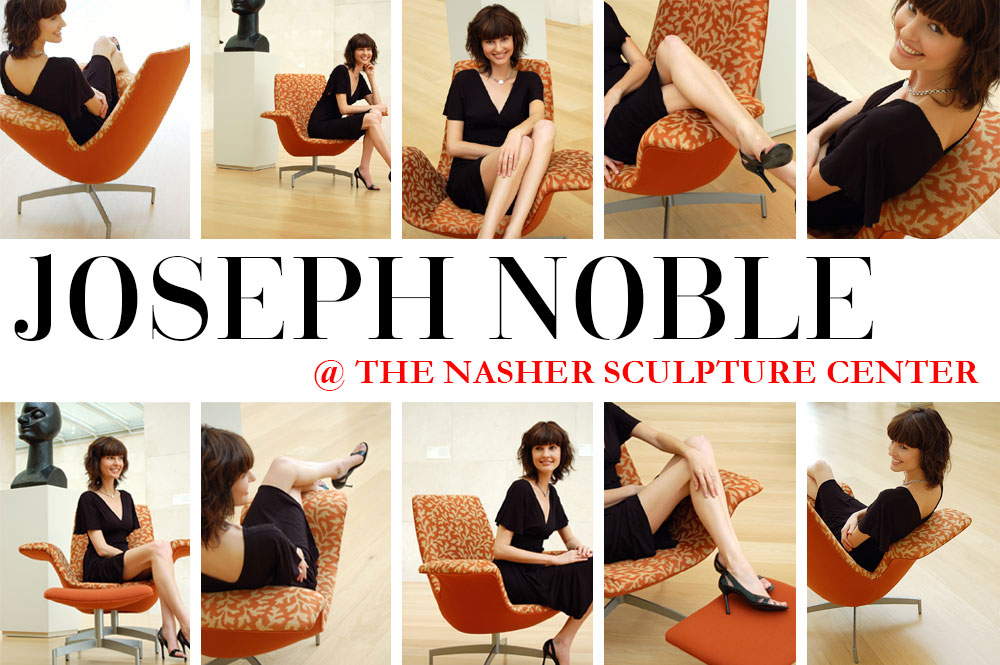 In the summer of 2007, Joseph asked the Nasher Sculpture Center in Dallas if he could photograph his newest collection of textiles and Technology Leathers™ alongside their amazing Rodin's and Picasso's….
…and they said yes.  For the first time in their history, the Nasher allowed photographic access to their beautiful Renzo Piano building for commercial usage.
From there, the Joseph Noble Design Lab asked numerous industry furniture manufacturers to donate a "key" piece from their Collection to be upholstered in these new products.  And like the Nasher, each agreed.
The "Lipse Too" chair from Davis.  "Foray" chair from Geiger/Herman Miller. "Cortina Lounge" chair and "Dialogue" ottoman and lounge from HBF."Elana" from Bright Chair Company.  "One Collection" from Martin Brattrud.
Each of these upholstered items were to be photographed alongside some of the most amazing sculptures in the world – "Miracolo" by Marino Marini."Eviva Amore" by Mark di Suvero.  "Hieratic Head of Ezra Pound" by Henri Gaudier-Brzeska.
A date was set.  Erica, our model, was hired. Moving trucks arrived. Catering showed up.  The stylist kept everything focused and moving.  Security at the museum followed Joseph (with his camera) everywhere he went (policy). Over 1000 images were photo-documented over the course of 6 hours, making it a handsomely rewarding day for the ground team.
To document this landmark event, a 64-page book was published celebrating this "snapshot-in-time" for the company.
And then the story got better.
Joseph arranged to have these handsomely upholstered pieces displayed at the Museum of Contemporary Art in Chicago for a cocktail party during NeoCon that year.  For those lucky enough to view these items alongside the remarkable art and architecture of the MCA that evening, it was a night worth remembering.
Through the generous support of their mills, clients, sales agents, manufacturers, as well as both museums and the Joseph Noble Design Lab, the company further defined their commitment to produce and showcase beautiful, appropriate, world-class products to both the contract and residential marketplace.
And by launching the collection in this manner helped to further define Joseph Noble Incorporated as a contemporary, forward-thinking company within the industry.