ABOUT JOSEPH NOBLE INCORPORATED
"For over 40 years, our primary focus has been on three basic fundamentals – great design, inherent product utility and client satisfaction," states Joseph Noble, President of Joseph Noble Incorporated.
"Since day one, we have stood in service to both the exacting and creative needs of the professional designer, architect, as well as their clients.
Deliberately and knowingly, we work with only the best mills, suppliers and product manufacturers in the world.  Our design studio religiously integrates the core tenets of great design through the research, development, engineering and manufacturing necessary for appropriate (and ultimately successful) usage on each of our products.
From phone calls to photography, development to delivery, testing to textiles, sampling to shipping – each in their own way is directly affected by our arduous standards and overall commitment to excellence.  Everyday.
And through our policies, systems, procedures and practices, our Customer Service objective has always been, and will remain, to assist, simplify and expedite each order to the client's satisfaction.
Concurrently, we actively engage our field agents and sales representatives (many of them seasoned professionals who possess exceptional sales expertise) in our policy decisions and strategies.
This first-hand, knowledge-based, quality-driven approach has enabled us to identify, address and adapt to the rapidly changing wants and needs of the marketplace.
Our ability to hold and honor these three core business tenets remain the backbone of Joseph Noble Incorporated.
Our job is to create products for inspired individuals that supports and facilitates their ingenious and imaginative vision.  The work is worthy, and when done right, serves to elevate everyone involved.
We are honored to be of ongoing service to an amazing community of architects and designers."
PRESS RELEASE:
Joseph Noble Incorporated is an established textile and Technology Leather™ company that creates and sells distinctive products for residential and contract applications.
For more than 40 years, the company has provided designers with world class, engineered product that can be customized to meet individual project requirements and performance standards anywhere in the world.  The company's brand names include Joseph Noble Textiles, Joseph Noble Technology Leathers™ and GreatDesign.com. Together, they comprise one of the industry's most widely recognized brands of interior products within the home furnishing and contract arenas.
Joseph Noble has won numerous industry awards.
Joseph Noble's textiles and Technology Leathers™ have been shown in galleries and museums such as the Contemporary Museum of Chicago, the Crow Museum of Dallas and the Getty Museum in Malibu, California.
Please call 214 741-8100, or e-mail media@josephnoble.com for additional information.
---
We are, at our core, a design company
that markets handsome, responsible products to the
best designers and architects, globally.
– Joseph Noble
---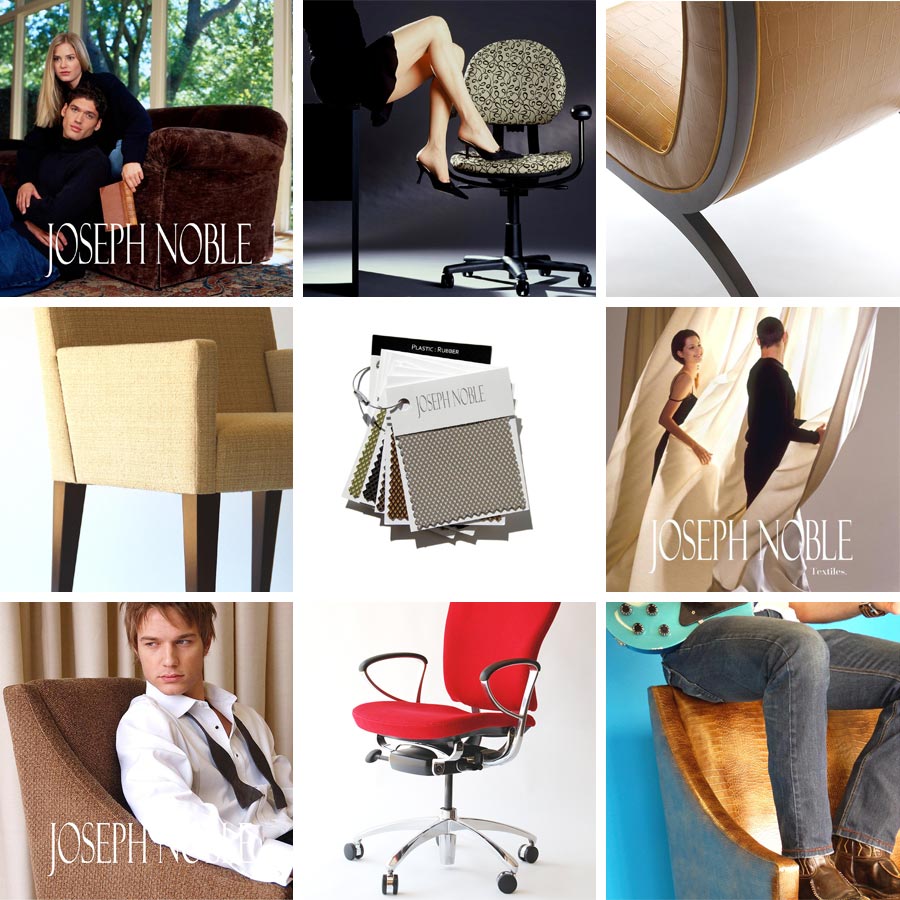 ---