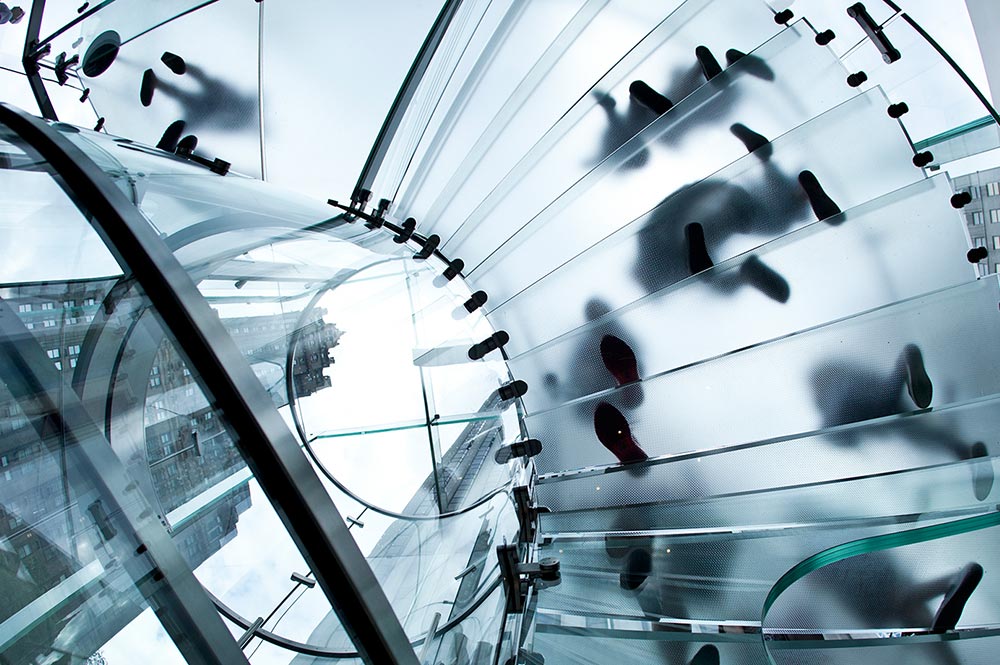 ---
Gigantic curved glass panes will be used to form the walls on both side of Apple's four-story campus that will measure more than one mile around.
Apple will use more than six kilometers of curved glass once the project is completed at the end of 2016.
---
"The world's largest piece of curved glass
is currently being installed at
Apple's Cupertino spaceship campus."
---
In all, more than 3,000 giant curved glass panes will be used.
Apple brought in its longtime partner Seele from Germany to make the curved glass panes. Seele also created the glass for Apple's iconic Fifth Ave Store as well as other flagship Apple Stores (pictured above).
The panes are installed using a 21 meter high Cimolai manipulator, which raises the glass in place while workers fasten it to the facade.
The panes for the exterior ring of the spaceship measure 15m × 3.2m each. On the outer ring they're slightly smaller at 11m x 3m. The building also supports large white canopies on the side and solar panels all over the roof.
Architectural firm Foster and Partners — which is overseeing the entire project — has dubbed the new Apple campus "one of the most environmentally sustainable projects on this scale anywhere in the world."